I am accomplished in reproducing colors and candys on vintage Japanese motorcycles like Honda Sunflake Orange Candy used on CB 500's ,CB 550's and CB 750's. & Kawasaki Super Candy Red, Super Candy Blue, Rich Candy Gold and the obscure Halibut Blue Candy used in the 70's on these coveted vintage motorcycles. Even Yamaha's RD colors like Brandy Red have been reformulated with great success.
We've seen several Harleys with scratched or dented tanks, fenders, covers (metal & plastic) parts the same in all kinds of conditions and applications. We turn parts out fast and pay close attention to details, like: dented tanks are hand blocked to perfection for accuracy, scratched and dented fenders are treated similarly and handed out in perfect condition, cracked plastic parts are welded for strength and endurance because welding plastic is still the best way to refurbish and repair plastics reliably.
There are several motorcycle shops in the Tampa Bay Area from Gibsonton to Lutz that have at one time or another relied upon Craig Paints Bikes signature service from time to time to produce perfectly repaired parts for their customer's bikes, trikes and motorcycles. Damaged tanks and fenders and crash parts can usually be turned out quickly to satisfy customer's need to get back on the road.
Frame work. Here at Craig Paints Bikes we take pride in the frames that we do here. We paint several frames for Choppers, Bobbers, Cafe' Racers and Vintage Motorcycles. Preparation is the key, frames are assesed for imperfections, damage and rust, then treated accordingly. Painting frames, wheels, swing arms and parts over powder coatng for better preparations and for better flow as well as the artistic things that cannot be preserved at 400 degrees (powder coating temperature). Plastic parts can be conventionally coated with reliability and flexible for durability. Plastics can not be powder coated because they would warp at high temperatures. Conventionally painting takes a few weeks to completely cure, and when it does it's as hard and durable as powder coating. We can also reproduce frame neck decals for Vintage Motorcycles like Triumph, Yamaha, Kawasaki, Honda and Harley Davidsons for that authentic touch.
We're going to show how we process motorcycle frames. Bike frames are cleaned and assessed. Portions of the motorcycle frames are cleaned of welding slag, sharp edges, dents and imperfections. We at Craig Paints Bikes produce some of the cleanest Vintage motorcycle frames possible. Frames are treated for rust and adhesion then sanded primed and sanded again before applying the topcoat.
We're also going to show how we paint the engines of some of the coolest Vintage Cafe' Racers.Also we begin a new service to restore rusty fuel tanks back to near original condition.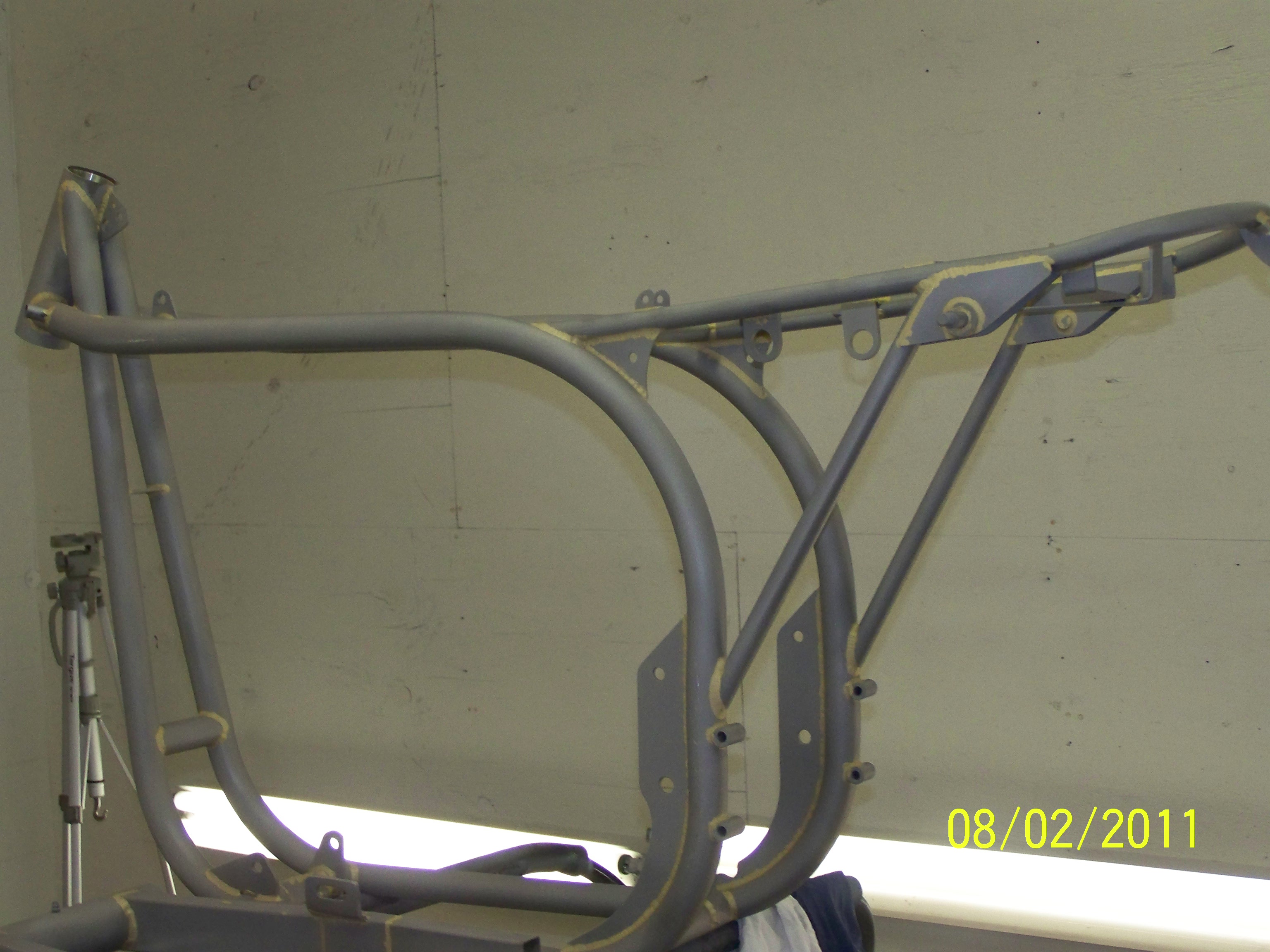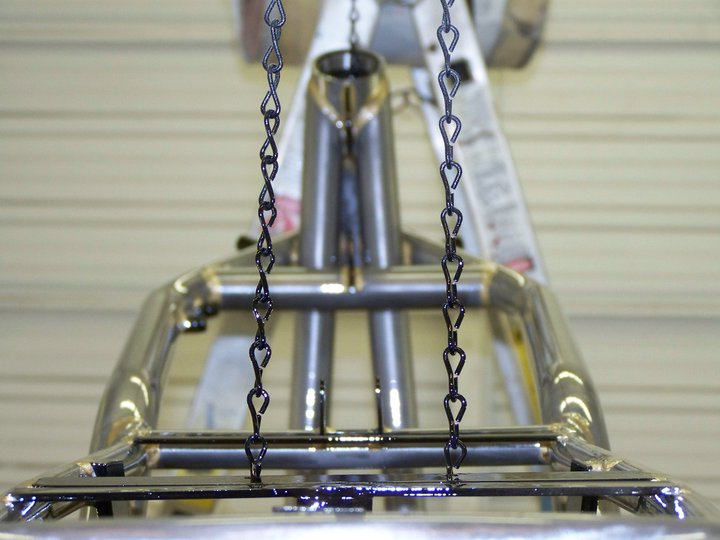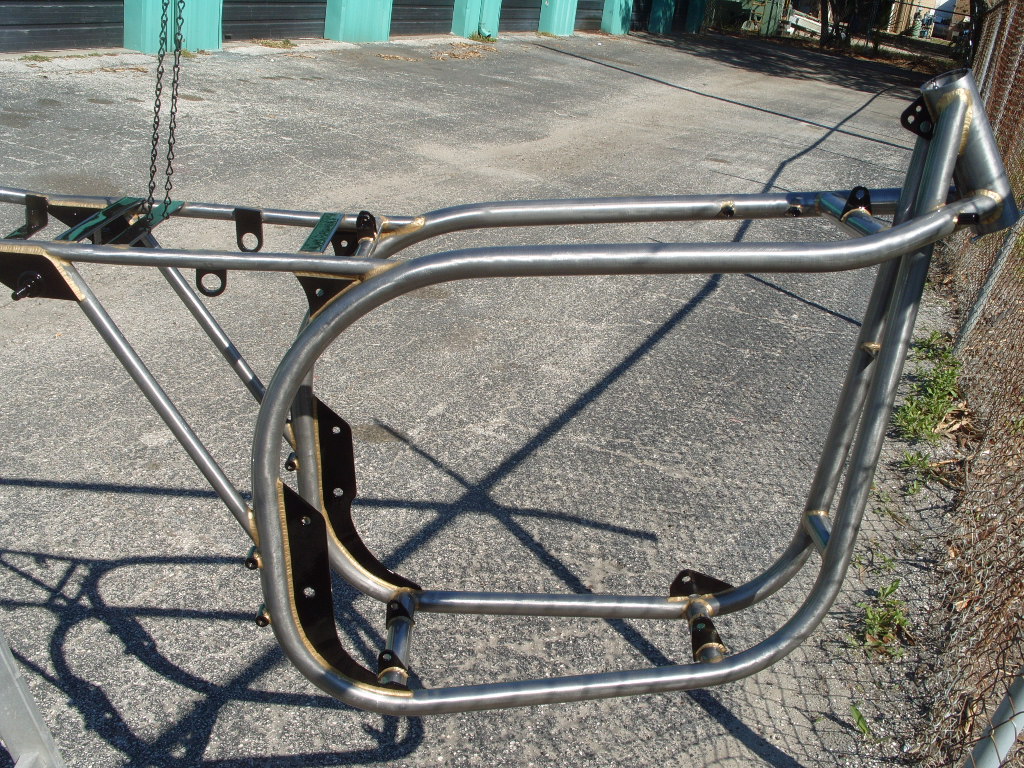 We at Craig Paints Bikes do frames for all kinds of bikes. We do Chopper frames, Bobber frames, Cafe' Racer frames and frames for Vintage Motorcycles. Many bike shops currently use Craig Paints Bikes for all of their needs. In addition to Tanks and Fenders Craig Paints Bikes
is the best place for your frames in any condition. Depending on your budget, we can turn out frames with the quality and durability you are looking for. Frames are cleaned and inspected for slag, flaws,dents and any irregularities. Most frames are sandblasted for maximum adhesion. Motorcycles take a lot of use and abuse, they are typically greasy and sometimes get scratched up and dented. Choppers and Bobbers have most of their frames out on display as art on the exterior of these bikes. Frames are treated for durability and coated to both protect and beautify the motorcycle. The paint work on a frame is very important. Some of my bikes have made it into magazines and publications. One motorcycle frame was even candy'd Orange and is currently displayed in a museum in up-state New York.
This week we at Craig Paints Bikes are finishing up on the last few pieces of the MotoGuzzi frame and engine that we've painted. The engine has been soda-blasted for adhesion, then a high quality engine grade enamel was properly applied and given several days to dry. The frame was given an industrial poly-urethane and a 3 day air dry. All frames get this type of treatment for durability. Some parts for this project have been given a billet finish. Can't wait to see how it looks when it's all together. We also cleaned, blasted and enameled the engine in great detail.